Holiday Clubs in Wokingham
Published:
Categories
There are lots of great organisations that offer holiday clubs and camps in Wokingham during the school holidays.
Holiday Clubs and Activity Camps can of course relieve childcare headaches for parents who have to work. But also all of these clubs have been carefully created with children's development in mind, letting kids come away with new skills learnt in a safe, supportive environment.
Looking for things to do during the school holidays? Browse the wesbite for hudreds of ideas and here follow us on Facebook and Instagram to stay up to date with everything going on in Wokingham!
Holiday Clubs in Wokingham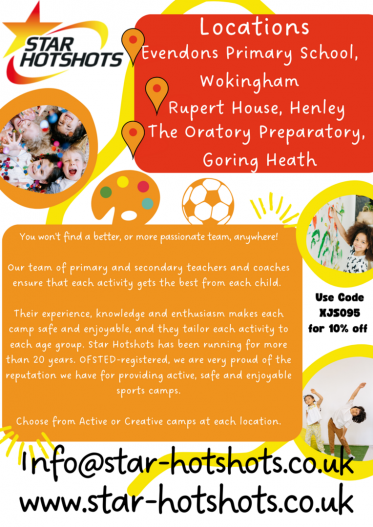 Star Hotshots
Fun, safe... flourish!
Are you looking for a well-designed choice of sports and creative activities and a reliable and professional environment for your children during the school holidays? Star Hotshots holiday camps are fun, energetic, creative and challenging enough to develop every child's skills without overwhelming the less confident ones. They provide an amazing set of activities you children can enjoy with friends in an open and safe environment.

Star Hotshots are really proud of the reputation they have developed over the last 20 years plus. We have very high standards, and they do all they can to offer children a positive environment for them to enjoy playing sport and learning new skills amongst their friends.
Ultimately, their holiday camps are an enjoyable way for your child to be active, creative, play games and be with their friends during the school holidays. Their enthusiastic coaches use their experience to develop sports skills, as well as physical, social and creative skills, through games, activities and challenges, while also enabling children to learn new skills.
Dates: Half terms and school holidays
Times: from 08:30 - 5:30. Sessions £38.00 per day or £180 for a full week.
Age range: 5 to 14yrs
Location: Evendons Primary School, 161 Finchampstead Road, Wokingham, RG40-3HD
Find out more click here
Check availability and book here
Email: info@star-hotshots.co.uk
---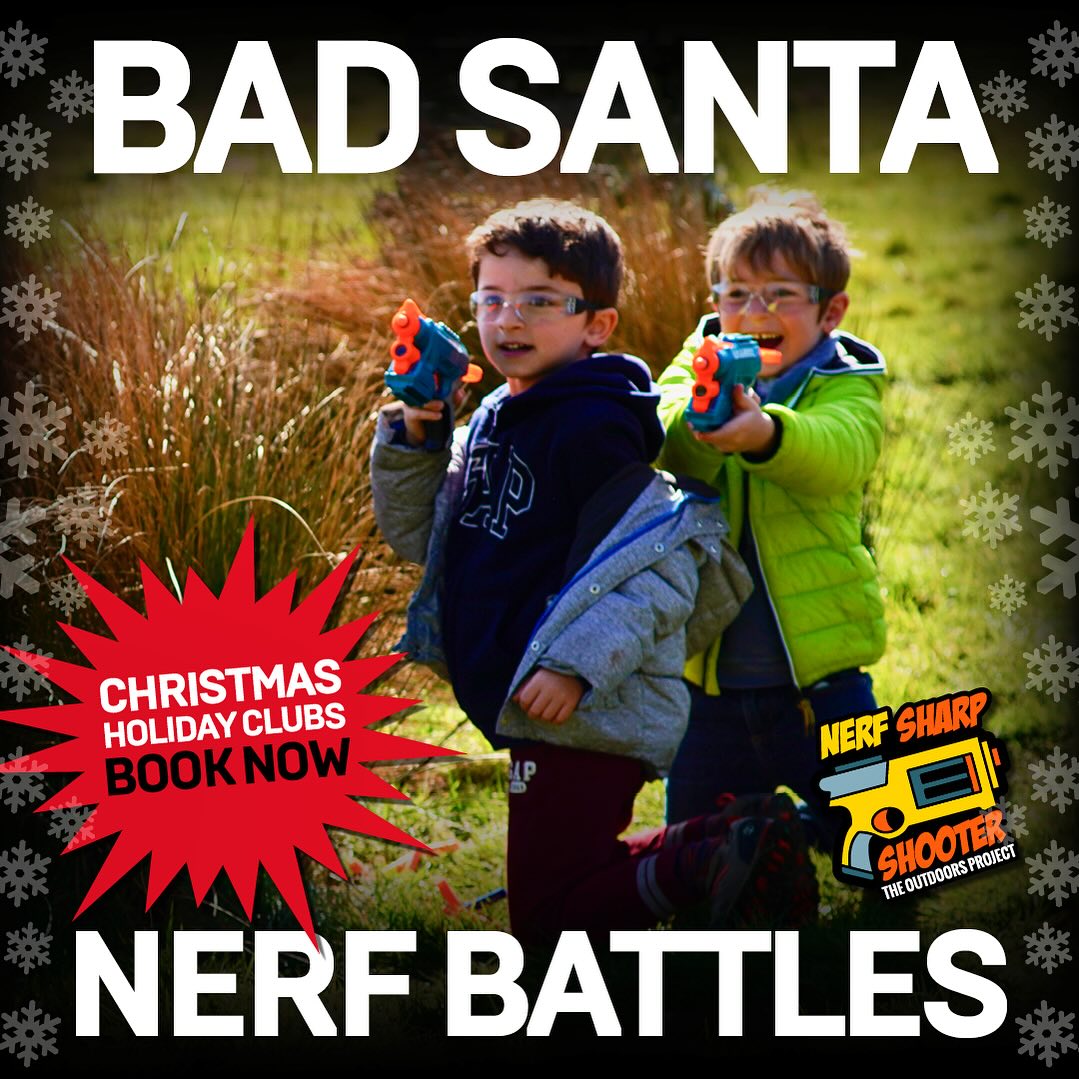 The Outdoors Project
With a non-competitive environment, children feel more relaxed and can challenge themselves to try new things in a fun environment, unlike sports specific clubs, as every person has something they excel at in nature.
Some of the popular activities take pop culture icons, such as Harry Potter, Pokemon or Star Wars and build an imaginative day of activities around these stories and characters. The tech meets nature sessions, such as Minecraft or Among Us, bring to life elements of the games that many children love. The meeting of these two worlds often encourages somewhat shy or reluctant children to come for the very first time, only to find that they return again and again to enjoy Bushcraft, Campfire Cooking, nature games and so much more.
Dates: Half terms and school holidays
Times: from 9:00 - 3:00pm. Sessions from £37.50 per day.
Age range: 5 to 11 (school years 1 - 6)
Location: Wildmoor Heath School, Lower Broadmoor Road, RG457HD
Find out more click here
Check availability and book here
Email: bracknell@theoutdoorsproject.co.uk
Tel: 07736555795
---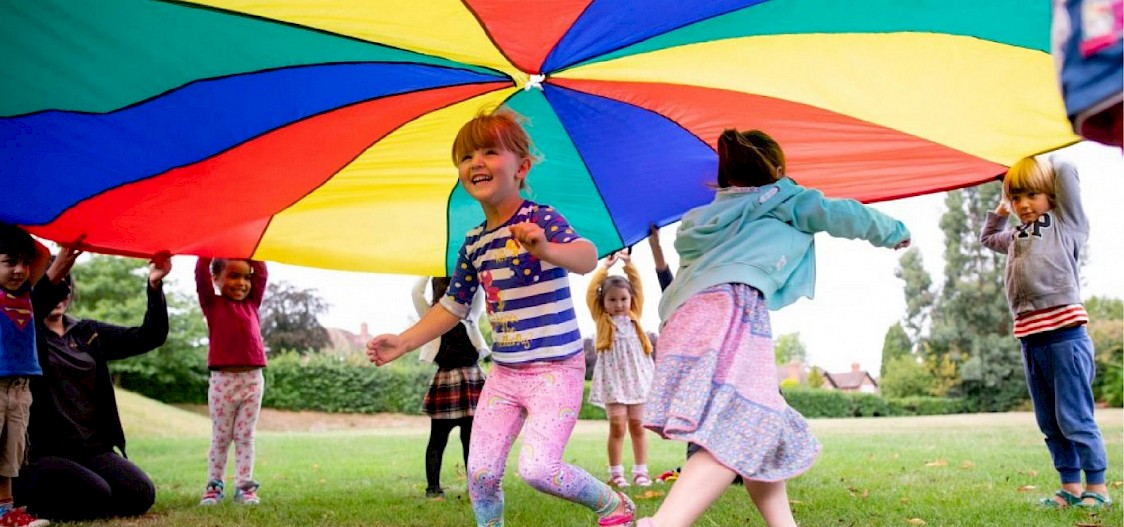 St Joseph's College Holiday Club
St Joseph's are proud to offer a variety of engaging and fun activities. There really is something for everyone from Pre-Reception all the way through to Year 8 at their holiday provision. The in-house staff have created a friendly a and comfortable environment where the timetabled activities are delivered to the highest standard. There is a fantastic festive line up of activities, including:
Christmas Bingo
Santa's Treasure Hunt
Nutcracker Netball
Frosty Fencing
Tinsel Tag
Elf Olympics
Christmas Party
Dates: Half terms and school holidays
Times: from 8:00am – 6pm. Half day sessions also available. Sessions from £42 per day.
Age range: Pre-Reception to Year 8
Location: St Joseph's College, Upper Redlands Road, Reading RG1 5JT
Find out more click here or to watch a video of the camp click here
Check availability and book here
Check out the December holiday programme here
Email: holidayclub@sjcr.org.uk
Tel: 0118 966 1000
---
Energy Kidz

Energy Kidz clubs are the perfect solution to ensure your child enjoys a holiday to remember as they invite you to join them on their Funtastic February. By choosing Energy Kidz as your child's holiday club – you can expect an explosion of fun and activity as they promise to deliver such an amazing experience, they'll be desperate to come back!
Energy Kidz understand that children have different interests ensuring that each day is filled with a wide range of inclusive activities suitable for all abilities and interests. As well as being able to choose what activities they would like to do, children are encouraged to try something new! Their great big summer of play is jam-packed with an exciting new activity programme that provides opportunities for children to access a range of new, fun and enriching experiences.
Dates: Half terms and Summer
Locations: St Pauls C.E Junior and Floreat Montague Park
Age range: 3-11yrs
Costs: £29.50 per day
TImings: 08:30am - 17:30pm.
Find out more and book click here.
---
Waverley School Holiday Club

Activities
The main emphasis is offering children the chance to have fun, relax and try new activities. Waverley school club is also keen to ensure that there is a clear differentiation between holiday club and the school term, enabling children to unwind, relax and recharge batteries ready for the next school term.
Every week has a different theme, for example cooking, sports, animals or crafts. Every day there are adult-led activities around these themes as well as free choice activities. Holiday club includes snacks and a cooked lunch.
Dates: Half term and Summer
Location: Waverley School and Nursery, Waverley Way, Finchampstead, Wokingham, Berkshire, RG40 4YD
Age range: Reception to year 6
Costs: Start from £26.50
TImings: Various drop offs and pick ups between 07:30-6pm.
Find out more and book click here.
---
Wild Days Holiday Club

They are running four activities per day, two per session, to give your youngsters a range of different adventurous sports. Activities include water sports, such as stand-up paddle boarding, kayaking or giant SUPs on the beautiful Black Swan Lake. These will be running alongside land activities to challenge yourself and aim high including climbing or test your Bear Grylls skills on the Survival session! Various activities availble depending on weather and safety.
Activities include; Stand-up Paddleboarding, Giant Paddle Boarding, Kayaking, Canoeing, Water Olympics, Raft building, Climbing, Leap of Faith, Crate stacking, Jacobs Ladder, All Aboard, Archery, and Survival Skills.
Will your team survive our woodland challenges? Light fires, filter water and build yourself a shelter before the 'storm' comes! You will be rewarded with a sugary treat!
Dates: Half terms and Summer
Location: Dinton Pastures Country Park, Davis St, Hurst, Wokingham RG10-0TH.
Age range: 8-13yrs
Costs: £32.00 per session
TImings: 09:30 - 12:30 and 13:30 - 16:30
Find out more and book click here
---
The Beehive
A varity of activites on offer such as arts and crafts, team sports, baking, bouncy castles and tech. All actitivies and snacks included.
Dates: Half terms and Summer
Location: Crown Wood and Nine Mile Ride Primary Schools
Age range: 3 - 11yrs
Costs: Half day £22 or full day £38
TImings: 08:30 - 1pm, 1pm - 6pm or all day 08:30 - 6pm
Find out more and book click here.
---
If you know of any other holiday clubs around Wokingham which we are not currently featured, then get in touch at nina@wokinghamrocks.co.uk
We hope you and your families find something great, and make the most of the school holidays!
---
Head to www.wokinghamrocks.co.uk to discover brilliant days out, baby and toddler groups, kids parties, and some amazing outdoor spaces too!
Don't forget to follow us on Facebook and Instagram too!
---

Looking for a holiday club around Berkshire? You can find guides for other areas below: